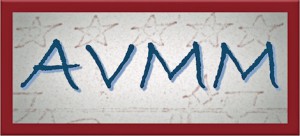 It would be difficult for most of us—even for our parents and grandparents—to imagine a time when the desire to hear music was not gratified by simply turning on a device of some sort. Consumer radios have been around since 1920, when stations first began broadcasting news, entertainment, and sports. Commercial recordings have been around a good bit longer, though it was also around 1920 that they really started to become commonplace in American homes. What, then, did Americans do for music in an earlier era?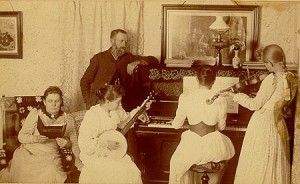 Simply put, they made it themselves. Since the colonial era, music making had been a fundamental part of common Americans' lives. They sang, played, and danced, sometimes formally but more often informally. True, professional entertainers plied their trade in theaters, schoolhouses, and makeshift venues with increasing frequency during the 19th century, but these events remained rare for most citizens. At home, people had fiddles and (increasingly) banjos and guitars. More affluent families acquired pianos, which functioned as status symbols in homes of the growing middle class. Communities had church singings, fueled greatly by the old tradition of singing schools and the newer revivalist movements. In the wake of the Civil War, amateur community bands flourished. In 1838, Boston's newly formed public school system made music a regular part of its curriculum, thanks largely to the efforts of composer Lowell Mason. Schoolkids learned to read music, just as others were learning in church. By the latter half of the 19th century, America had become the most musically literate nation on earth.
A professional music publishing industry arose to meet the growing demand for accessible domestic sheet music, but ordinary Americans also notated music themselves by hand. They wrote down their favorite tunes, original tunes, tailored arrangements, or perhaps just their own parts from a larger arrangement. They wrote down music for voice, piano, fiddle, guitar, flute, cornet, and other media, sometimes with text and sometimes without. In many families, when the pile of manuscript music became sizable enough, they took the sheets to a book binder to create a family heirloom, a snapshot of one person's or one family's musical life.
A large collection of these "binder's volumes," replete with all sorts of music made by common Americans before recordings and radio took over our domestic music delivery, had been accumulated over many years here at the Center for Popular Music. The problem was what to do with them. They were by definition unique, and this made cataloging and access a considerable challenge. While the material has long since entered the public domain, the diversity of formats and layouts, the complexity of authorship and provenance, and the sheer variety of musical and textual contents made these tremendously difficult documents to share with patrons and researchers in any systematic way.
In 2012, then CPM Director Dale Cockrell submitted a grant proposal to the National Endowment for the Humanities (http://www.neh.gov) for a collaborative project between the CPM and the American Antiquarian Society—which also housed a major collection of bound American musical manuscripts—to catalog and digitize them, making these remarkable documents searchable and fully accessible via the web. The results of three years of hard work by core members of the CPM staff and an impressive lineup of historical and technical consultants is the American Vernacular Music Manuscripts website, which provides background information and a flexible search engine, along with roughly 17,000 images (pages) from high-resolution scans housed at the Internet Archive. It is a major achievement in the world of American music and cultural history, as well as the archival and library disciplines.