I am delighted to welcome the first guest contributor to the CPM Blog: Candace Bailey of North Carolina Central University. –G. Reish
***************
At the end of September I had the opportunity to spend a week at the Center for Popular Music at MTSU. I had known about the center for some time, but I had not visited because I work on 19th-century music (antebellum period) and thought that the CPM concentrated on more recent "popular" music, such as country music or rock 'n' roll. I confess I was absolutely blown away by the depth of the collection, the knowledge of the staff, and the various projects underway. For my own purposes, the CPM houses over 200 binder's volumes (collections of sheet music bound together), most of which date from before 1870. Moreover, the CPM is currently involved in a digitization project of early American music manuscripts, which opened up even more avenues of investigation that I had initially considered (visit https://archive.org/details/americanmusicmanuscripts for samples of this exciting project; completed website coming soon).
As if these treasures were not enough, I was also able to draw on Lucinda Cockrell's extensive knowledge of the area in order to broaden my research on women's musical experiences in middle Tennessee during the antebellum period. She assisted me with gaining entrance and assistance in such venues as Oaklands Historic House Museum (http://oaklandsmuseum.org) and the Maury County Archives. Her connections to archivists in the area is considerable and proved a great help to my work. Moreover, her willingness to share items from her personal collection further augmented my trip to this area. Indeed, the entire staff proved wonderfully helpful in suggesting further resources—and, speaking as one who has worked in archives throughout the United States and Europe—this sort of assistance from multiple staff members was unique.
I left the CPM with enough ideas to occupy several years of writing. Not only did I find exactly the sorts of primary sources that I had expected to see when visiting the center, but I also located the beginnings of other projects that could spring from my original one. For example, I am working on a book about antebellum southern women's musical experiences according to region. This stems from my 2010 Music and the Southern Belle: From Accomplished Lady to Confederate Composer, in which I described in general terms women and music in the South between 1835 and 1865. My current research examines women and music in specific places in order to identify regional differences, interactions between women of different races and classes, and practices peculiar to various locales. Middle Tennessee being one of the areas I have chosen to examine, the CPM provided ample resources. Additionally, however, I was able to find other projects of note while perusing the collection. One to which I intend to return is the collection belonging to Ann Gordon. The CPM owns four binder's volumes, all dating between about 1795 and 1810. I am unaware of other collections (multiple volumes) from such an early date that can all be assigned to a single owner—this surely suggests that Ann Gordon is worthy of further study.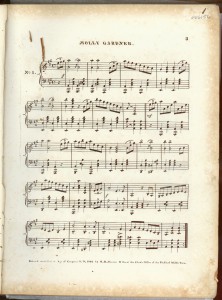 Other highlights of the binder's volume collection include books belonging to McGavock family of Nashville, additional sets of books whose owners can be identified, books with details of local music traditions, and a wealth of music from the 18th century. Such a rich treasure of women's music is a lesser-known part of the CPM archives and one that deserves wider recognition in the scholarly world.
— Candace Bailey, PhD