Last month I attended, for the first time, the Americana Music Association's festival and conference up the road in Nashville. Like other music industry trade shows, AmericanaFest squeezes panel sessions, performance showcases, and the association's annual awards show into an action- and music-packed span of several days. It also provides an important chance for industry professionals, artists, and other interested parties to meet, network, and build valuable relationships. In four days' time I heard quite a lot of excellent music and interacted with many fine people whose musical and professional interests connect with my own in one way or another.

An industry trade show like this one, focusing an a particular genre or music marketing category, serves also to redefine the genre's boundaries. It offers a yearly chance for those deeply involved with a particular type of popular music to confirm its identity, and simultaneously to challenge, question, and expand it. The International Bluegrass Music Association's World of Bluegrass trade show provides an interesting example. Passionate discussions about WIBA ("What is bluegrass, anyway?") have been a regular part of the bluegrass scene for decades, showing no sign of abatement in recent years. IBMA's World of Bluegrass provides a touchpoint for that particular debate, a fresh chance to see who's in and who's out, how the tradition is being preserved and how much room remains for innovation.
Americana is a particularly interesting case, as the marketing category (initially a radio format) has only been around for some twenty years, and the Americana Music Association itself for just fifteen. Moreover, the stylistic boundaries of Americana remain especially and deliberately amorphous. Consider the range of musical acts that crossed the stage of the fabled Ryman Auditorium during last month's Americana Music Awards show. Along with some of the genre's core artists—Jim Lauderdale, Buddy Miller, Rodney Crowell, Roseanne Cash, Jason Isbell, Todd Snider, Elizabeth Cook—we lucky attendees saw and heard legends as diverse as Loretta Lynn, Flaco Jimenez, Cassandra Wilson, Taj Mahal, and Jackson Browne. Robert Plant even showed up as a surprise guest singing with Patty Griffin. The newer crop of emerging artists makes for an even more eclectic array, from the soulful grittiness of Valerie June, to the delicate quirkiness of The Milk Carton Kids, to Sturgill Simpson's postmodern spin on Waylonesque hard country (backed by one of the most amazing guitar players I've ever seen, Estonian whiz Laur Joamets).
What I may love best about Americana is precisely that it struggles so hard not to define itself too clearly. The AMA offers this elusive guidance: "Americana is contemporary music that incorporates elements of various American roots music styles, including country, roots-rock, folk, bluegrass, R&B and blues, resulting in a distinctive roots-oriented sound that lives in a world apart from the pure forms of the genres upon which it may draw" (http://americanamusic.org/what-americana). Despite the references to various types of American "roots" music (another slippery term, to be sure), what really strikes me is the organization's ready acknowledgment that the music "lives in a world apart." It's not pure blues, country, soul, bluegrass, gospel, or anything else, though it draws upon all of these traditions. Of course, every one of these older, "pure" styles is itself a hybrid, for this is how music changes through time, particularly in popular idioms. But Americana seems to embrace its hybridity more than most genres, emphasizing that the whole is distinctly different, if not greater, than the sum of its parts.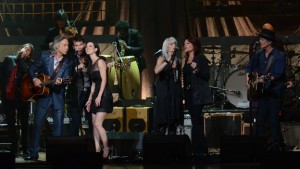 Less explicit in the AMA's identity statement is that Americana has become the industry home for artists who don't fit well into popular music's other, more mainstream categories. If Sarah Jarosz doesn't quite fit into the IBMA mold, she finds a home in Americana. Is Sturgill Simpson's music too edgy and raw for CMA? Well, let's just call it Americana and get on with the business of appreciating how good it is. Those involved with Americana seem to feel that there is something more genuine, more grounded, and more openly respectful of American musical tradition about it compared to other popular styles that may be driven by commerce first, artistry and authenticity second. There are inherent problems with such a connoisseur's attitude, and the ambiguous way in which Americana identifies itself and its core values is enough to drive musicologists nuts. But rather than sit back and poke holes in the way the AMA and its constituency have constructed their world within the contemporary music business, let's instead be thankful that these wonderful artists have a place to thrive, and that at least one branch of the American vernacular music tree remains openly proud of its twisted roots.