MTSU Magazine

Middle Tennessee State University

Summer 2016 / vol. 21, no. 1

University Editor

Drew Ruble

Art Director

Kara Hooper

Contributing Editors

Sara Brookfield, Darby Campbell, Carol Stuart

Contributing Writers

Lynn Adams, Gina E. Fann, Jimmy Hart, Gina K. Logue, Vicky Travis, Randy Weiler

Design Assistance

Karin Albrecht, Kathy Bowlin, Darrell Callis Burks, Brian Evans, Amanda Hooten, David Lowry, Micah Loyed, Sherry Wiser George

University Photographers

J. Intintoli, Andy Heidt


Special thanks to

Ginger Freeman and the Alumni Relations staff, Sharon Fitzgerald, Tara Hollins, Colby Jubenville, MT Athletics staff, the staff of the MTSU Office of Development, Bea Perdue, Jack Ross, Cindy Speer, Terry Whiteside

University President

Sidney A. McPhee

Interim University Provost

Mark Byrnes

Vice President for University Advancement

Joe Bales

Vice President for Marketing and Communications

Andrew Oppmann

Feature Stories

Cover Story: School of Rock
Rock star Julien Baker's ability to balance the pursuit of her degree and career opportunities offers proof that MTSU's student success emphasis is more than just lip service

The Game Heard 'Round The World
The University's recently-concluded, $105-million fundraising campaign ranks among the most important occurrences at MTSU in decades

A Centennial Success
The Blue Raider men's basketball team shocked the sports world in March 2016 when it upset the Michigan State Spartans in the first round of the NCAA Tournament

Ask An Expert: Changing the Conversation
Recording Industry chair Beverly Keel has kick-started a national public discourse about the need for greater female involvement in country music

Teamwork: The Heart of the Matter
MTSU head football coach Rick Stockstill's message to recruits and their families is clear: Blue Raider culture matters

Discoveries: A New Cash Crop
An MTSU student's central role in reviving hemp production in Tennessee promises to yield a harvest of University research

Departments

Class Notes
You Do What?


Address changes should be sent to Advancement Services, MTSU Box 109, Murfreesboro, TN 37132; alumni@mtsu.edu. Other correspondence should be sent to MTSU Magazine, Drew Ruble, 1301 E. Main St., Box 49, Murfreesboro, TN 37132.

MTSU is a Tennessee Board of Regents Institution.

118,000 copies printed at Lithographics, Nashville, Tenn.
Designed by MTSU Creative and Visual Services.
Not So Par for the Course
By Drew Ruble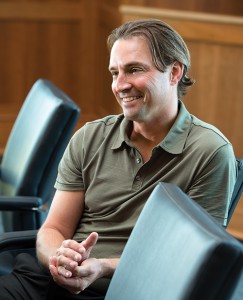 If you know me at all, you know I love golf. To be honest, I'm obsessed with it. I'm proud to say that over the past few years, I've dropped my handicap to a quite respectable 5.8. It's little wonder I take every opportunity I get to cover the men's or women's golf teams here at MTSU.
One such chance presented itself in March 2016 when four former Blue Raider golfers now playing on the Web.com professional golf tour—the minor leagues of professional golf—returned to middle Tennessee to participate in a charity golf tournament benefitting the MT golf program. By virtue of earning their Web.com tour cards for the 2015–16 season, all four—Kent Bulle, Rick Cochran, Jason Millard, and Chas Narramore—are virtually a Web.com Tour victory away, or even just a few good consecutive-finishes-earning-significant-prize-money away, from elevating to PGA Tour status.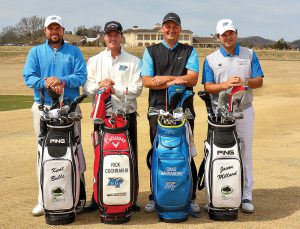 All Web.com players finishing in the top 25 at the end of the developmental tour's annual schedule earn PGA Tour memberships for the next season. Most current PGA players today boast a Web.com pedigree.
As editor of MTSU's twice annual alumni magazine, it could be argued that it is both my duty and prerogative to cover events where alumni make the choice to give back to the University in the form of their gifts of time or money. In fact, one could say there really is no argument; that it would be remiss of me to not go. And that's most certainly what I told myself in way of enabling the perfect excuse to show up at The Grove golf course in Williamson County the day of this particular charity event.
While my own motives may not have been altogether altruistic, what I encountered on the course that day was, in no uncertain terms, a True Blue experience. The four former MT golfers I met that day were each sterling examples of devoted Blue Raiders who reflect fondly on their time at MTSU and who genuinely cherished the opportunity to give back to MTSU by showing up, meeting and greeting, and playing with the many generous donors who attended the event. I had come to see golf, and golf played well, and had the added bonus of seeing the genuine kindness, generosity, and professionalism that MTSU graduates carry forth into the world. Win-win-win all around, I'd say.
It's nice to know the ongoing ascension in the sport of professional golf has not caused these four former Blue Raiders to forget the good times they experienced at MTSU—or the lessons learned in college that are enabling their careers.
Bulle, who created quite a stir in June when he qualified and played in the U.S. Open, reflected fondly on his time at MTSU and said he remains best friends with all three other Blue Raiders now playing on the Web.com Tour.
"I would never change having been here for the world," he said. "And it's fun still being a part of things here at MTSU."
Cochran, who actually earned permanent status on the Web.com Tour last year and finished 52nd on the money list, said his fondest memories as a Blue Raider golfer include winning tournaments and having fun doing it.
"The thing I take from it is just how much fun it was when we were kicking everybody's a–!" he said, good-naturedly.
Millard, who has also played an event on the PGA Tour (the Honda Classic), said making it to nationals his freshman year (and finishing 15th) and winning the conference his sophomore year remain his fondest MTSU memories.
"Those are the two best because you have a team involved," he said. "That's what college golf is really all about."
Narramore stressed the camaraderie of his old Blue Raider golf squad as the best aspect of his college experience.
"We hung out every night. We'd go out bowling, and were obviously very competitive with each other," he said. "We're still best friends to this day. . . So just having this band of brothers is what I got from MTSU."
One day in the future—and I predict it won't be very long—one or more of these Blue Raiders are going to secure a PGA Tour card and be seen on weekly television broadcasts bombing drives and sinking putts. A new tradition at many PGA Tour events is to encourage the players to wear their former college colors on Friday matches and to play up the alma maters and team logos. I look forward to the day when Blue Raider colors adorn those broadcasts. Seeing them will provide just another example of the way MTSU serves as the launching pad for so many aspiring professionals—no matter their chosen field of study or discipline.
University Editor Drew Ruble is a long-time fan of golf and avid golfer.
True Blue!
East by Middle
With a performance of replica ancient bells, the Center for Chinese Music and Culture—the first and only center of its kind in North America—opened on the MTSU campus in March 2016.
The impressive set of bronze chime bells pictured here was built as a replica of those discovered in the tomb of the Marquis Yi of the Chinese state of Zeng. The originals date back to 433 BCE.
A standing-room-only crowd of international dignitaries and University supporters attended the grand opening, held on the first floor of the new Andrew Woodfin Miller Sr. Education Center at 503 Bell St.
An initial $1 million grant from Hanban Confucius Institute in Beijing made the
center possible. The Institute is an organization that oversees more than 440 institutes in 120 countries.
The center will not only promote Chinese music and culture, but also language, business, and trade. At the opening of the center, state Sen. Bill Ketron read a letter from Tennessee Gov. Bill Haslam, who traveled to China with Commissioner of Economic Development Randy Boyd this year to promote business opportunities from the state's new development office there.
"Facilities like this can play a tremendous role in building bridges between different
and diverse cultures, fostering greater understanding, and spotlighting mutual opportunities for educational and economic growth," Haslam wrote.